So I got a new camera last weekend. Then I did lots of homework (with Nate's help - dear Physics, I hate you, that's all). Then we saw

lusa_thul
and goofed off. And you know how we roll when we goof off.

HERE IS A CAT.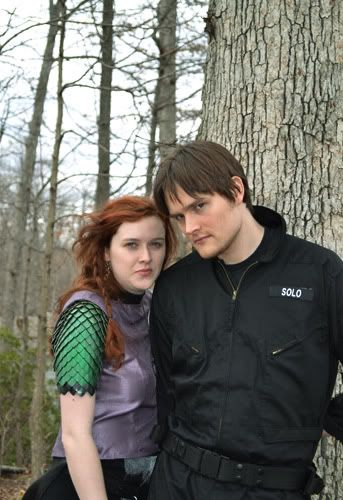 HERE IS A ME AND THAT ONE DUDE (HE SCURES ME).



HERE IS A

lusa_thul. (P.S. to said

lusa_thul - I am editing the rest of the photos and they should be up on my flickr this weekend. I have been editing them to fix some coloring/light issues. <3)
No really, you know whenever Emily and I get in the same space we always goof off with cameras and costumes and crap. Since I didn't get any shots of that Tenel Ka outfit besides random ones at con after doing those damn scales, I wanted to get a couple this past weekend. Emily offered to take pictures if Nate wanted to throw on a Jacen outfit. He did and we got a couple photos. THEN I LOOKED AT THEM.
Now, me being the tool that I am looked at these pictures and thought of 9234209.8 things I wanted to do to fix this costume. One of the asscapes looks funny (you can't see it in that photo CAUSE IT MADE ME ANGRY), I need to fix some stuff on the sleeves and give them more depth, remake the purple top to better accommodate the scales and make a freaking belt. Maybe a small scale addition too. SO I'LL HAVE THAT DONE BY THE END OF THE MONTH. And then I'll take final THIS SHIT IS FINALLY DONE MY HANDS AREN'T CUT UP FROM SCALES ANYMORE BUT I LOVE THEM celebration pictures and be finished with the 938492084.873 revisions I have done to that costume since however many years ago when I originally made it. XD
THEN we went to the magical park and I got a bunch of shots of Emily in her femme!Who which I love - also, I do not have the patience for that. She knitted that whole scarf, girl, I was like WORK IT (been watching to much RuPaul's Drag Race, sorry bros).
Also at the park, we finally got our first shot for the Centuria Challenge!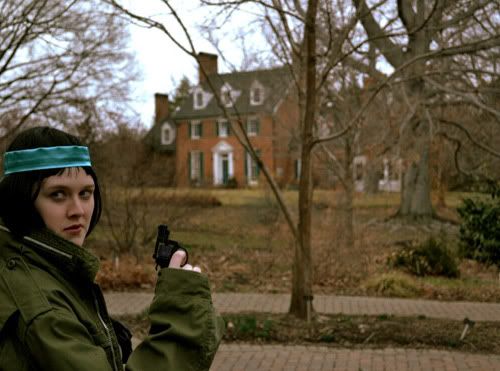 Lillian Prune. Psycho bitch? From Game #1 - Laura Bow: The Colonel's Bequest
ONE GAME AND ONE PHOTO DOWN.
99 MORE GAMES/PHOTOS TO GO
! For more info on this adventure, check
this
!