Between the 9038490283490824957437 costume things we're trying to get done for Dragon*Con, Nate and I decided we're going to do a project of the photo-ly type (which will get done in... forever from now, most likely :|).
While going through our boxes of costume junk looking for pieces we would need for this year, we cackled at all the Jacen and Tenel Ka costume action spilling from the boxes (not to mention we're both bringing two new costumes each of them-thar-darlings this year). We talked about taking all the costumes (including the new ones and a couple we're planning on putting together) and creating a set of photos that sort of follows the timeline of the two of them -- beginning with a photo of little woodsy Jacen and ending with a photo of stoic bitch Tenel Ka many years later. I won't bore you with the loljuicy (not really) details of all the middle photos - it'll make sense one day when we actually start taking them all. I HOPE. D:
WE GOT THE FIRST ONE TAKEN THOUGH -- and this is where
WE NEEEEEEEED YOUR HELPS
.
On Saturday, we went to a park nearby and headed up one of the trails, straying off of it (and Nate pushing old spider webs out of the way while I squealed mercilessly and tried to deal with it LIKE A BOSS) just to get to this amazing little grove area to take the first photo in - little nature boy teenage dirtbag Jacen Solo. Nate was a super sport and even took his frickin' shoes off. I was stupid and wore shorts. I have sixteen mosquito bites on my legs.
We also saw a frog.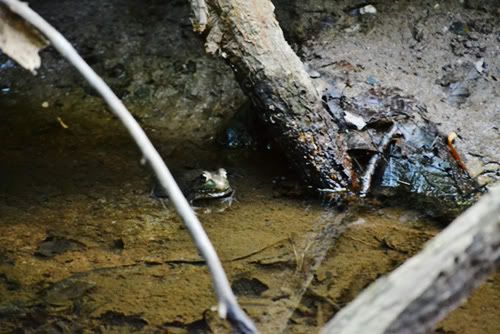 Nate got so giddy - "OHHHH IT'S A FROG! LOOK. AT. HIM!" -- this is the same park we were walking through last fall when he started telling me about the mating habits of frogs.
Anyways, I snapped as many pictures as I could while feeling sweat drip down my back and swatting bugs away from my pasty legs (uggggh summertime) and hoped we got something passable. COME TO FIND OUT WE MIGHT HAVE.
Two of the photos are under the cut below. Nate said the first one could work cause he's smiling and looking down and being awkward - which definitely works. But the second one got me because the angle makes him look smaller (do you know how hard it is to make a 6'4", 24 year old look like he's a decade younger? IT'S IMPOSSIBLE) -- and that Zoolander expression on his face said EAGER TINY JOKE-TELLING JACEN to me for some reason. I don't know. I like both and we can't decide which one to make the FIRST PHOTO OF THE JACEN/TENEL KA PHOTO PROJECT OF DOOOOOOOM!
( KJKSJFKSJ DECISION. I haven't done anything to these pictures except resizing them and knocking the contrast up a bit - so picture them a lot fancier or something lololol okay wat )
WHAT TO DO?
I just rambled I need to go to sleep.
(
How out of it I am:
Jacen Solo needs a "Honey Badger don't give a shit" shirt. I'm assigning memes to all the Star Wars characters. D:)