tenel_ka
So I decided to split Sunday into two parts. The first part will be the giant EXPANDED UNIVERSE SHOOT OF DOOOOOOOM and the second will be everything else. Since there are a billion photos from each part, I figured this would be an easier way of doing this, haha! AND THIS ISN'T EVEN HALF THE PHOTOS I TOOK FROM THE SHOOT.
It depressed me cause I had all these photo ideas in my head and then when I got to the shoot they all just went DERP and left. Plus, everyone was taking their own photos of single characters and all that jazz while I was running around (in these FRICKIN' BOOTS MY GAWWWD) trying to get photos so I missed a lot of single character shots I wanted to get and stuff. ;-;
This just means,
NEXT YEAR
. And next year, I will have a costume on that doesn't have crazy boots. XD
LOOK AT LINH'S FACE. EVERYONE IS SERIOUS. NOT LINH. <3 I think here I said, "LINH STOP MAKING THAT FACE~"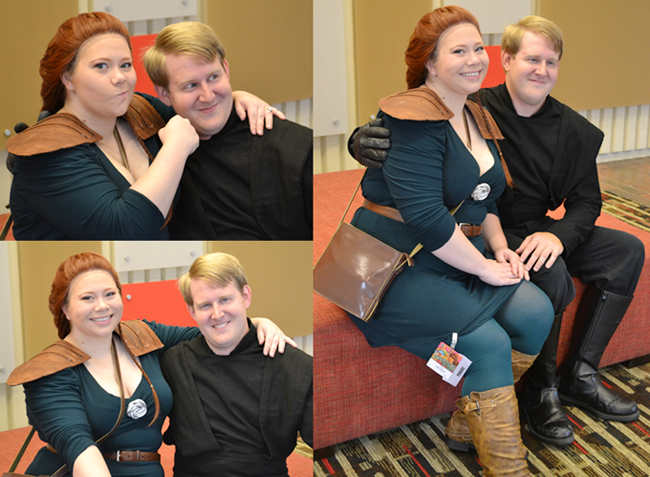 Emily and Adam as Mara and Luke. SO DARLING~ <3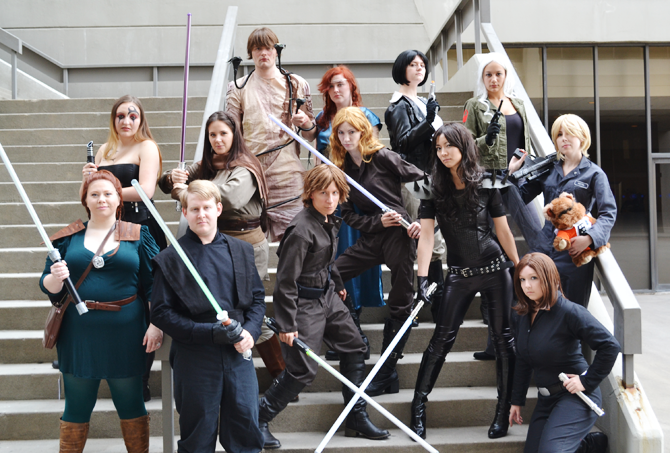 Here's our group! I was so excited with the turnout and wanted to hug each and every person a billion times. <3333 LET'S SEE - WE HAVE: Mara Jade, Luke Skywalker, Vestara Khai, Jaina Solo, Jacen Solo, Tenel Ka, Tahiri Veila, Anakin Solo, Mirax Horn, Tamith Kai, Winter Celchu, Lara Notsil and Jaina Solo! XD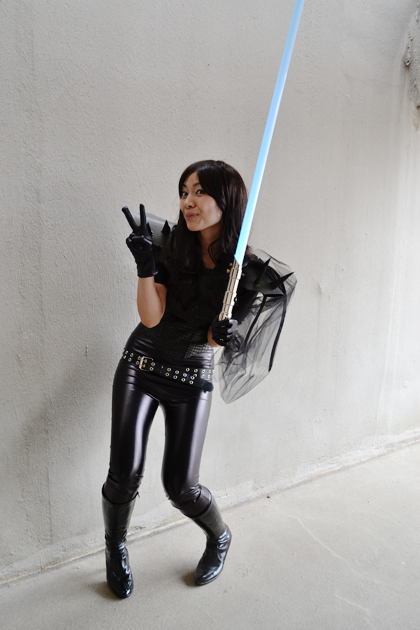 We had to get this out of the way before I could get a serious photo of her~!
THERE IS MY EVIL BB <3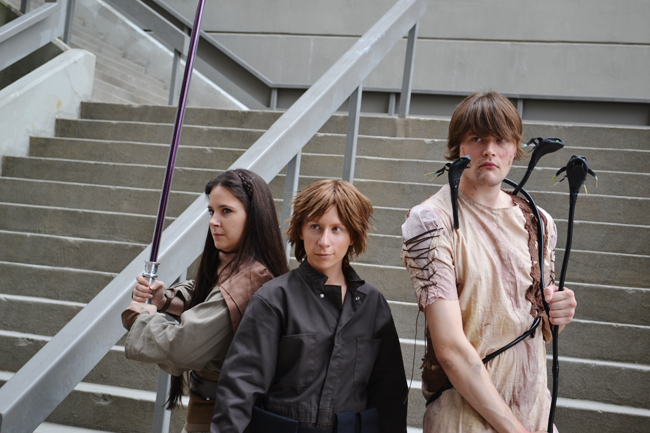 Cavalyn stepped in as the first Jaina with Kayla and Nate's Solo Bros. Brolos.
Heee <3
I can never NOT get this photo when there are all three Solo children present.
This turns...
...into this. XD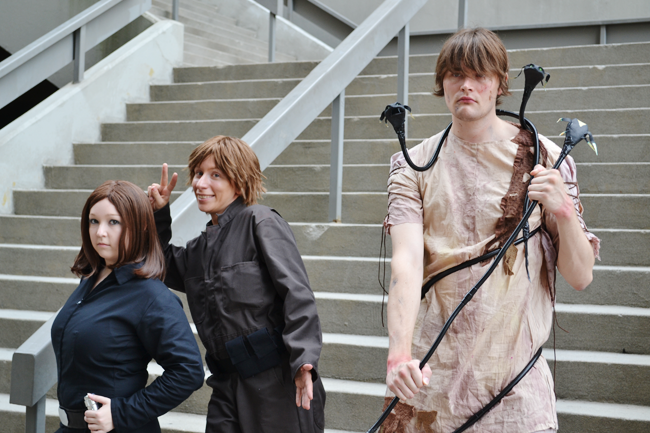 Kelly Jaina! Anakin being a derpy little bro!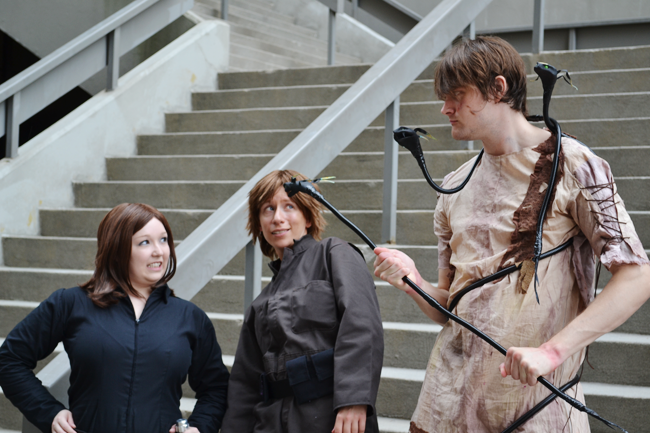 Kelly's face is AMAZING. It's the whole, "Ugh, trying to smile for family photo and twin is playing with his stupid animals again nggghhhh."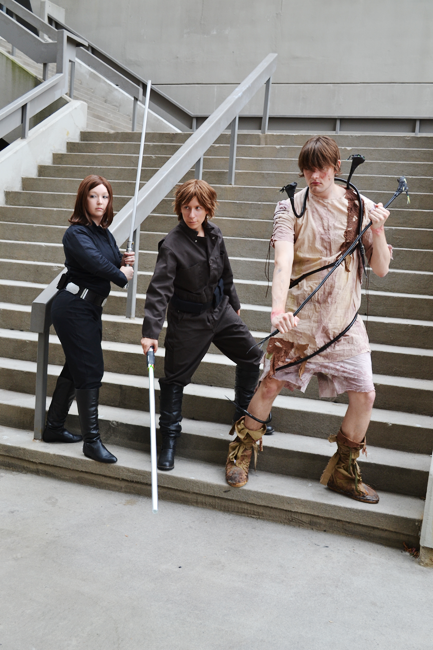 Anakin and Jaina were never with Jacen when he was in his MAGICAL ROBESKIN but who cares cause it makes for awesome Solo Brat photos. :3
Vestara and Tamith Kai, being evil. >D
EEEEEEEEBIL Lindsey and Linh~
Emily as Lara being all sneaky sneaky.
Miss Natalie and Kayla looking fierce as Tahiri and Anakin. I love this photoooo.
This kid came up and wanted a photo with the Jedi, aw yes! Adam gave him a red lightsaber so he could pose with it. Heee~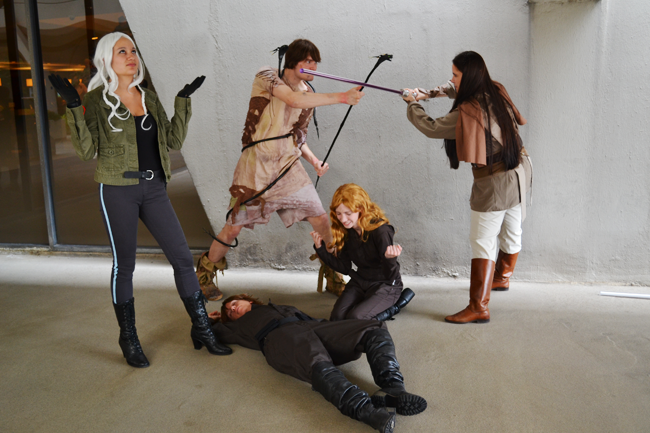 NONE OF THIS WAS WINTER'S FAULT. I am so glad Bria mentioned getting this photo cause they turned out awesomeeeeee.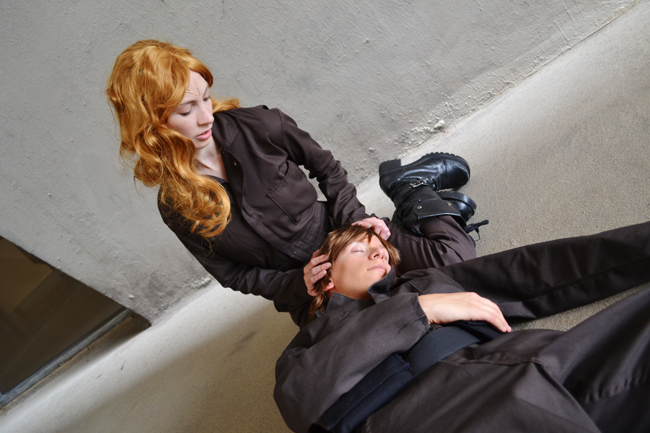 B'awwwww. ;-;
This was awesome. They did ANAKIN/TAHIRI MAKEOUT and by makeout, they did a stage kiss. Then...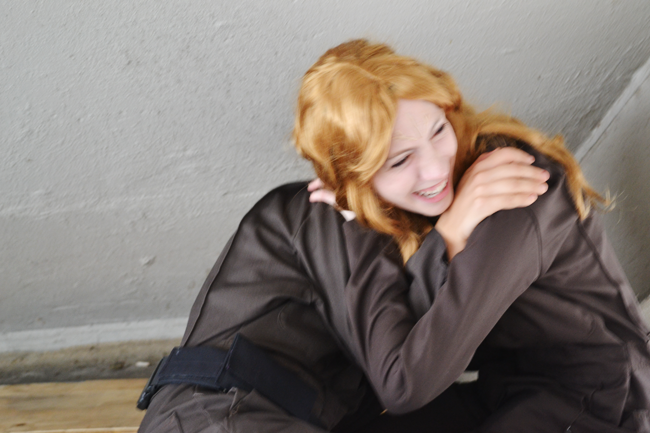 ...they couldn't keep it up cause they were laughing too much.
Then Jaina catches them.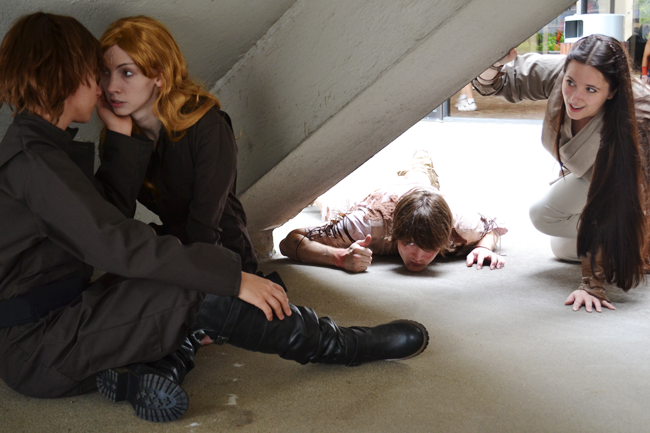 Then Jacen's all GOOD JOB LITTLE BRO.
Then Nate started creeping over to them with his creeper face and Cavalyn and I busted out laughing. He was pulling himself along the ground with his fingers.
Somehow he has gotten closer aaaaaand...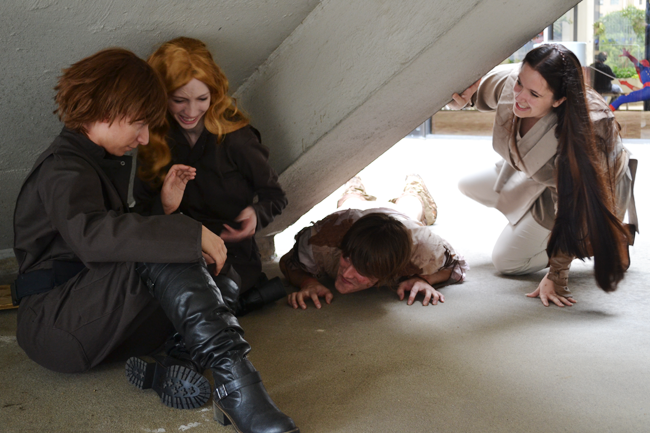 Natalie: "OH MY GOD HOW DID YOU GET THERE-- WHAT--"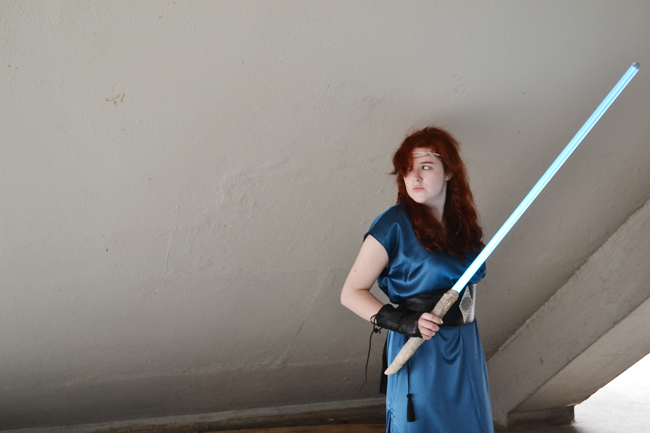 OKAY SO. I was gonna make the Conviction back cover outfit but I was finishing up so much other stuff and helping Nate with his tunic and crap that I ran out of time and ended up making an original outfit instead. I took kind of what I was going to do for the Conviction outfit and morphed it into this. ANOTHER QUEEN MOMMA OUTFIT. You know how much I love me some Queen Momma TK. XD
Dem. Damn. Boots.
Cavalyn was trying to crouch to be shorter than Emily and as short as Jaina. XD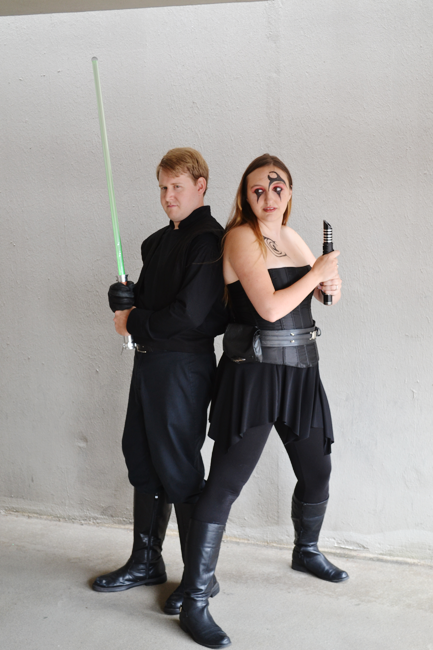 SECONDS AWAY FROM FIGHTING EACH OTHER FOR BEN'S LOVE OKAY
After lots of nerding and photos and more nerding, everyone left to either go get lunch, go to panels or change. Nate and I really had nowhere to be plus I wanted to get good photos of his outfit since he was so excited about it (I WAS TOO. AMPHISTAFFS) - this proved to be a bitch because traipsing around the outside deck of the Hilton + my boots after a couple hours was baaaaaaalls. But I sucked it up cause TRAITOR. He also said he wanted more shots of my outfit and I was all, "d'awww you're just saying that so I don't bitch later about how I wore it and got no photos you know me too well~"
This is one of my favorite photos everrrrrrrrr. :B
SNAKES ON A NATE-- shit, I already used that.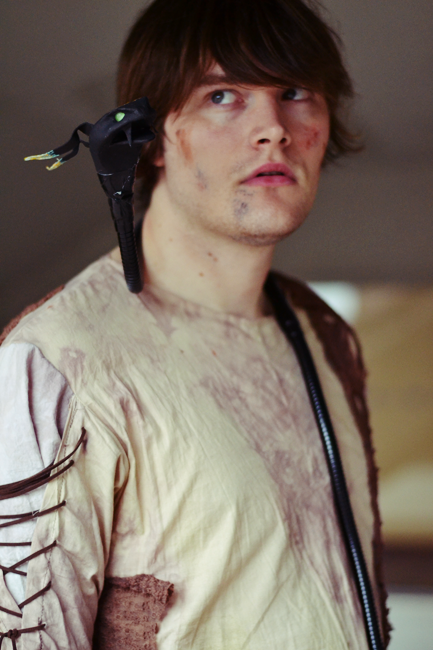 B'awww, widdle amphistaff.
It was raining on and off lightly the whole morning so we stuck under this staircase for awhile, hehe.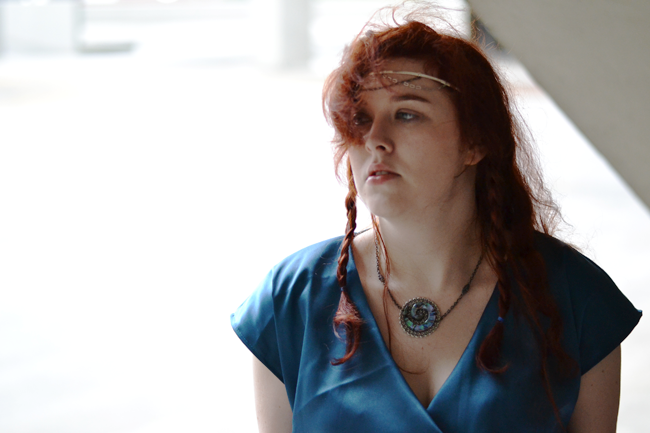 Yay, necklace I made. I didn't think I got a photo of that thing but apparently there is one!
THIS is what you should always expect from me. ALWAYS.
BREEZE!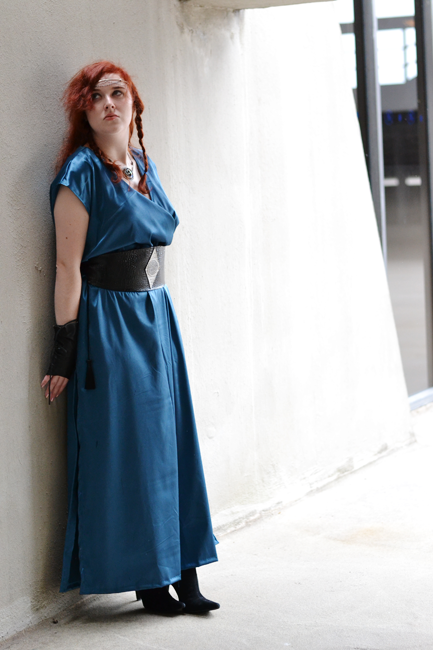 ALWAYS WITH THE RIGHT SIDE.
Then the rain stopped so we could go out and get a couple shots ON the stairs.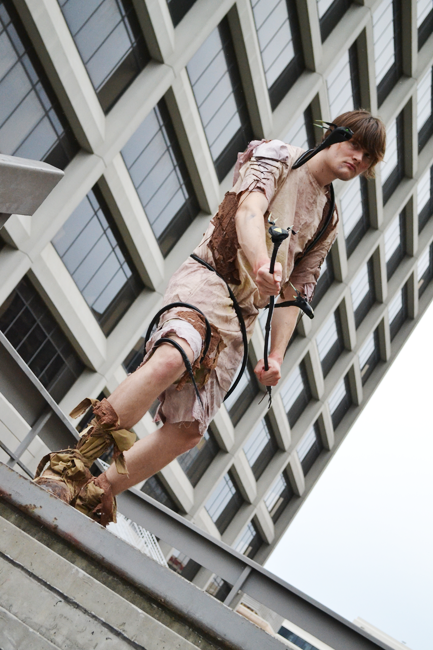 I was taking these photos and this amazingly awesome guy comes out of one of the Hilton doors and he says, "Do you guys want me to take a photo of you together?" And since we didn't have any of us we said sure and thanked him a billion times.
Nate didn't bother with his amphistaffs and just bolted up the stairs so he is in TOTAL POTATO SACK mode in this photo, without his AMPHISTAFF BELTS. XD
Sadly, this photo was the last photo we got of both of us together that day in SW stuff. In our other Jacen and Tenel Ka costume later (costumes they might actually be wearing while together) we got zero photos together. Faaaaaail. D: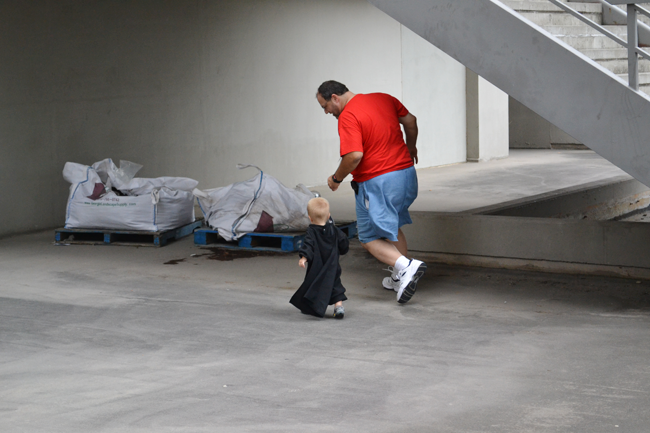 Here is the awesome guy who took our photo and his son. They were chasing each other around the deck.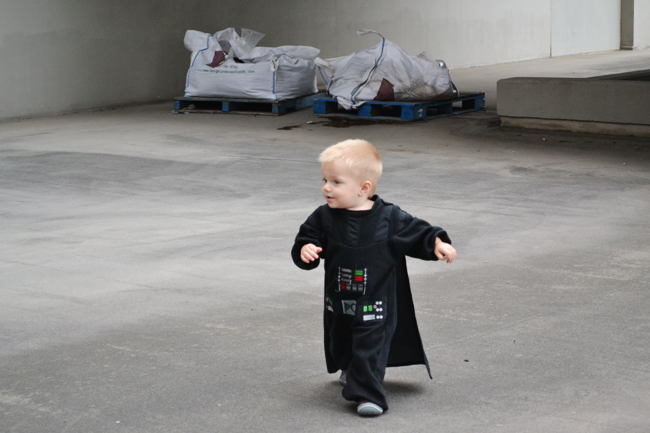 SO CUTE. SOOOOOO CUTEEEEEEEEEEEE.
:3
MORE SUNDAY LATER. XD