tenel_ka
Everyone else is doing it -- so what better way to coordinate! XD I figure I will fill this in for me and Nate since pretty much every single costume I have planned for 2012 somehow goes with a costume he has planned for 2012 EXCEPT FOR ONE SINGLE COSTUME, which I will note, lololol.
MAGFEST 2012
Video Game convention! Gaylord National Harbor! First weekend of 2012! We have a table! Stop by and say hey! We'll be wearing these! I am aware I'm being three males and one female!



Luther & Cowboy(?) - The Warriors - Nate's putting together a Luther costume (left) and I can wear my vest again! If I can find my hat then I'll be Cowboy again because I love him with all my heart. If not, then it'll probably be Ajax, hahah!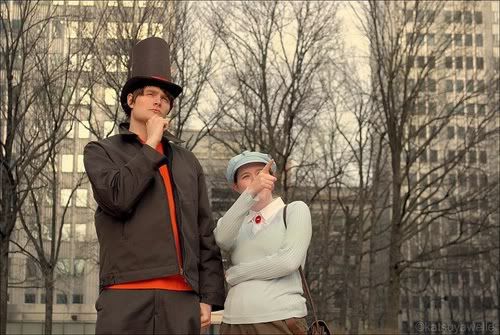 Professor Layton & Luke Triton - Professor Layton series - Katsuya Weller took this awesome photo at Tekkoshocon. It makes us want to wear the costumes again. Plus, VIDEO GAME CONVENTION WOOOOO!




Junpei & Santa - 9 Hours, 9 Persons, 9 Doors - I would wear June again but since we're going to be sitting at a table all day... Santa is the more comfortable of the two. The costume isn't as heavy - same with the wig.




Guybrush Threepwood & Elaine Marley - The Secret of Monkey Island - AW YES. <3


KATSUCON 2012
Anime convention! Gaylord National Harbor! February! None of these costumes are from any anime! WHOOPS?



Jacen Solo & Tenel Ka - Young Jedi Knights - We're remaking/fixing parts of these and we're super excitedddddddd. :33333




James Sunderland & Mary/Maria - Silent Hill 2 - Nate is finishing up his James (you can see his jacket isn't done XD) and I'm finishing up fixing this costume I made a few years back. :D




NATE LOLOLOL & Ellie Kirishima - Persona 2 - EPIC PERSONA 2 GROUP SO EXCITE. OMG

sarisa AS LE EIKICHI AND

leesers AS LE ULALA since I'm kidnapping her and making her do her dream Ulalalalalalalala~! <3333 (ALSO BAOFU MIKE PLZ :3)




Kerith & Jaryn (THE GLITTERATI) - Dance Central 2 - WE'RE COSPLAYING AS ~*~SIBLINGS~*~ OKAY.


GAMEFEST
Super excited! At the Smithsonian! ART OF VIDEO GAMES EXHIBIT OPENING WEEKEND! :D



Guybrush Threepwood & Elaine Marley - The Secret of Monkey Island - We're wearing them here too since we love Monkey Island with all of our fanbeings and it is one of the featured games! Here-- have a much more awesome photo than the last one.


DRAGON*CON 2012
SELF EXPLANATORY.



Merida - Brave - Here is my one alone costume! I usually don't say I'm gonna make a costume of a character until I've seen the movie/played the game/etc. cause I don't want to waste all the time and effort and supplies and money if I just end up hating the character. But... red-haired, warrior princess. You know how I feel about them. D: WE'LL TAKE A GAMBLE HERE.




Sokka & Suki - Avatar: The Last Airbender - HORRIBLE JOKES AND FACE PAINT. CANNOT WAIT. <3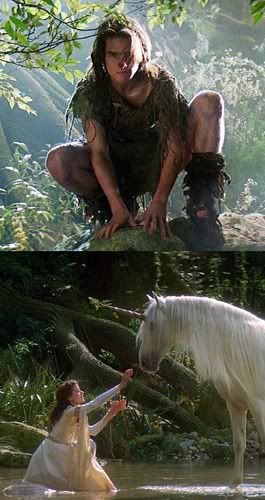 Jack and Lily - Legend - Nate has experience with ratty tunics now! I'm afraid of that dress though. But this is one of my favorite movies ever and Nate has been prodding me every time I talk about it cause he knows how bad I want to do this. ;-;




JASA SOLO AND TELEN KA??? - Genderswapped Star Wars - Okay, we're not sure of the names yet. But I want to run around throwing snakes at people's faces and Nate wants to make armor. THEREFORE, GENDERSWAPPED JACEN AND TENEL KA. This was spawned after we did Han and Leia and has grown to now include a genderswapped Jaina, Zekk, Kyp and Jag. XD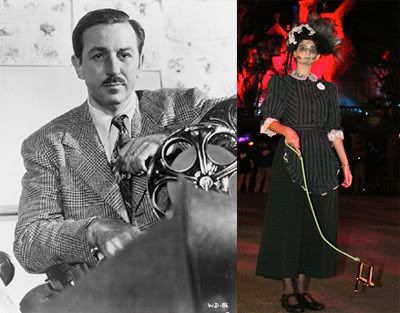 Walt Disney & Haunted Mansion Cast Member - Disney World group! - this will go along with Ashley's possible Tower of Terror cast member, Sara's Jungle Cruise cast member and John's possible Star Tours cast member. When Nate was dressed like Andrew Ryan this past year, we kept joking that he looked like Walt Disney. At dinner on the Monday night of D*C, this group was born because of that, haha~!

THERE IS ALSO ANOTHER DISNEY COSTUME. THAT MY EXCITEMENT IS OVERFLOWING FOR. BUT PLANS/CHARACTERS STILL NEED TO BE FINALIZED. :33333333333 Meaning we need to have a meeting/chat, lololol.

And of course there will be a normal Jacen and Tenel Ka costume for the Outlander Club shoot. Not sure which ones yet! I was talking to a new friend Jesse on le facebook though about a giant group of Hapans which made me giddy. She has a friend with a Ta'a Chume costume and she mentioned Trista and Taryn. SQUEEEEEdsjkasjdfks <3333333

ALSO LONG WALK TOO PROBABLY, JUST CAUSE. XD

Oh my god, I know there's more than that. What am I missing? ANYONE???? MY BRAIN. DDDDD:





That was... so incoherent.