I feel like Friday can be summed up best using photos. Nate and I wore three costumes that day (June & Junpei from 9 Hours, 9 Persons, 9 Doors, Ariel & Eric from The Little Mermaid and Meg Masters & Sam Winchester from Supernatural) so there was a lot of running around, changing and acting goofy BUT NOT JUST FROM US, NO.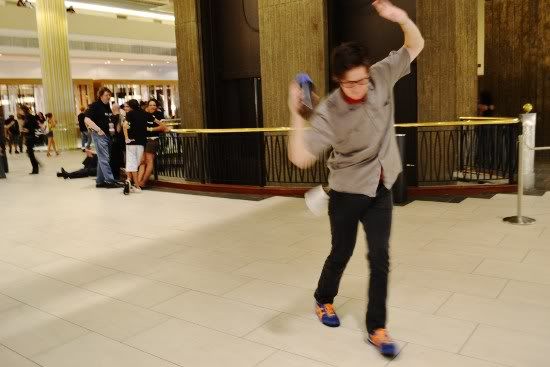 This is Alex. He is pretty tipsy. Dressed like a GHOSTFACER. And he is dancing in the middle of the Hyatt lobby at 2am to no music, no nothing. He's just dancing. You can see Erin on the left behind him yelling at him.
( Friday, September 2 - HERE, HAVE A CRAB. )
UP NEXT - SATURDAY!
Gender swapped Star Wars! The Aquarium! MADNESS!
And I got a few more photos of our Disney group and the Catherine group and SPN shoot and all that jazz that I will be uploading to the zhobot gallery in one huge bunch at the end of all the recaps when I've gone through all these damn photos, lolol. XD